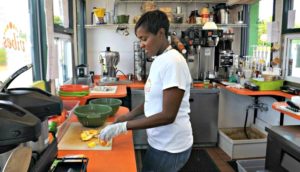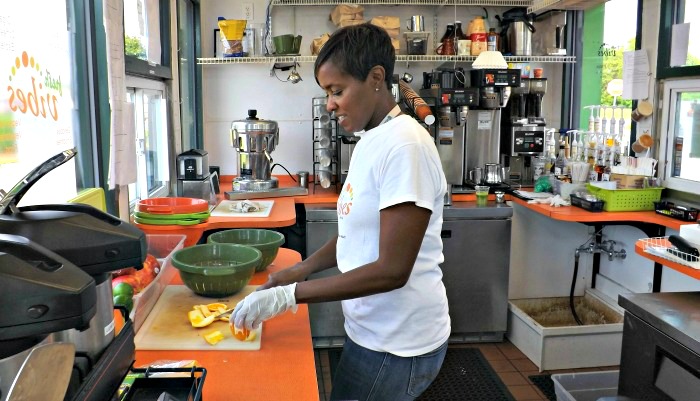 During week 2 of National Women's Small Business week, CW would like to shine a light on Charlotte Brown, owner of Fresh Vibes Juice Bar in Rock Hill, SC.
Single mom Charlotte Brown had just finished her MBA from Winthrop University when she made a bold decision—rather than take the corporate contract position that had been offered to her, she decided to turn her passion for health and juicing into a business: Fresh Vibes Juice Bar in Rock Hill, SC.
"I used to be overweight and unhealthy," she says. "I didn't know anything about nutrition." But then she discovered juicing and running, and she was immediately hooked after seeing the health benefits. She started researching about food and nutrition and made a lifestyle change that she wanted to share with others.
When she knew the direction she wanted to go with the business, Brown took a class at Winthrop to help her write a business plan and worked with Winthrop's Small Business Development Center to focus on the steps she would need to take to open a successful business.
Funding was the difficult part—her recent divorce had taken its toll on her credit, so bank financing was not an option. Through the SBDC, she learned about CommunityWorks and got in touch with Small Business Lending Manager Archie Johnson, who, she says, took a personal interest in her and her business and walked her through the process.
She opened in October of 2014, thinking that $300 a day in sales would be a good, solid number, but right out of the gate she was doing $500 a day, and now, after about six months in business, she averages $700–$1000 a day.
Juice bars may be all the rage in larger cities, but Fresh Vibes is the only one in Rock Hill, and it has benefited from word-of-mouth publicity. Brown offers 15 different juice blends, 15 smoothie blends, organic coffee, vegan and vegetarian wraps and salads, and snack bars.
The juices and smoothies are made with fresh, local ingredients—organic when she can get it—and each drink is made to order, so customers can watch the juice being made and know exactly what's in it.
She is also looking at a second location with sit-down space, and others have approached her with possible expansion opportunities. When looking at these options, she still depends on Archie Johnson at CommunityWorks to steer her in the right direction.
"I'm not great at delegating, so if it's more than I can do, I can't do it. I'm trying to pace myself so I don't get burned out," she says. But the future of Fresh Vibes and Charlotte Brown—and the health of Rock Hill—looks bright.