Sarah Anne didn't think she would ever be able to own her own home. Even though she was born and raised in Greenville, the rising prices of homeownership in the area made it challengine to imagine homeownership as a possibility. However, due to family circumstances, Sarah Anne needed a place to stay and longed for the stability of a house of her own. When she learned about downpayment assistance through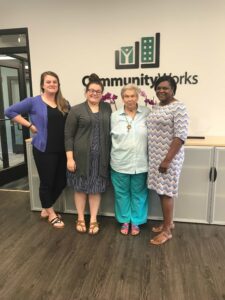 CommunityWorks, she was able to obtain the funding she needed for the perfect home. Once she laid eyes on the quaint brick ranch, she knew it was the one.
She became a first-time homebuyer at 72 years old and was able to provide a safe haven for herself and her family when they needed it most. Sarah Anne has lived in her home for more than a year. She enjoys living a mere two miles from work and coming home to her happy place. Sarah Anne has peace knowing that she's building equity, and uses her double lot to care for stray neighborhood cats.
Did you know that you may also be eligible for up to $5,000 in closing cost or down payment assistance in Greenville? CommunityWorks has specific programs for homebuyers in Greenville County, the City of Spartanburg, the Northside neighborhood in Spartanburg, and PRISMA Health employees throughout the Upstate.
Homeownership is a wonderful way to build equity and provide stability. However, with rising costs throughout Greenville and Spartanburg, it can be challenging to save the funds necessary for the costs associated with purchasing a home. CommunityWorks serves to stand in the gap to provide a way for homeownership. Learn more about CommunityWorks' downpayment assistance programs here.