It's a Tuesday. But not like the one before. It's February 19th, 2019, and a crowd has gathered inside of Venus Beauty Supply in Spartanburg. The enthusiasm is real. Cynthia is about to cut the big, red ribbon debuting her business to the world: Facez by Cynthia, Brow and Lash Bar is born.
Cynthia's earnest spirit is enough to set her apart from the crowd on its own but her distinctiveness does not end there. Cynthia is the first African American woman to both perform and teach the brow threading technique professionally in Spartanburg.
Cynthia's calm warmth and energy are contagious.
She is a certified professional cosmetologist and has a loyal following of customers in Spartanburg thanks to her growing reputation and precisely perfect brow and lash styling.
As Spartanburg's only stand-alone brow, and lash bar customers can breeze in and out in a matter of minutes if they are in a rush. Otherwise, Cynthia's business model revolves around keeping her clients happy which means lots of hugs, laughs and stellar customer service.
Cynthia's no stranger to struggle but she brushes off mention of the obstacles she's faced to reach this delightful pinnacle in her life. Cynthia urges anyone who wants to follow in her footsteps to not be discouraged, "Create the door you need to walk through if it's not there."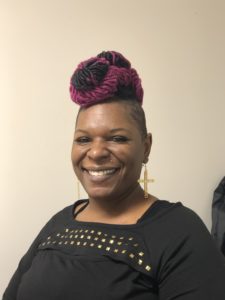 After years managing a brow bar owned by a local family and watching her trainees quit and become competition, Cynthia was ready to change that dynamic- once and for all. "This has been a dream of mine for so long…I'm filled with love."
She took to the internet in 2018 and searched for small business loans. She was quickly linked up with the Small Business Administration's website and a few clicks later she was applying for a loan with CommunityWorks, right here in the Upstate.
Her first meeting with CW's former Small Business Lending Manager, Archie Johnson was "Encouraging. Mr. Johnson has been immensely supportive every step of the way. He is rooting for me and that makes me feel blessed to have such an awesome support system."
Cynthia received a Microbusiness Loan from CommunityWorks in an amount that traditional banks wouldn't even consider.
Founded in 2008, CommunityWorks (CW) is a CDFI and nonprofit financial organization committed to building a brighter future for underserved families and communities through education, lending, and investing. We envision robust and vibrant communities that offer the opportunity for financial stability and economic achievement for everyone. CW serves low-wealth working families and underserved, minority-owned businesses and entrepreneurs throughout South Carolina. In ten years, CW has provided $3,973,995 in small business loans to clients like Cynthia and together with $6.3M in affordable housing and community loans, $5.4M in consumer loans, and $58.7M in home sales, and made $221M in total economic impact in South Carolina.