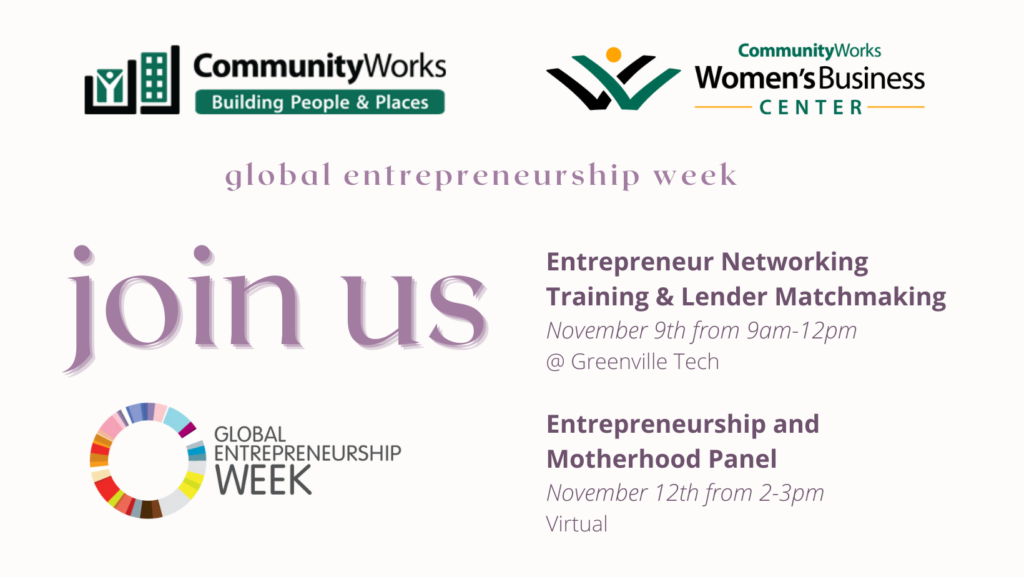 Join us for Global Entrepreneurship Week as we host two events to celebrate all that entrepreneurs add to our communities. At CommunityWorks, we work to provide education, capital, and opportunities for entrepreneurs, specifically minority entrepreneurs. Global Entrepreneurship Week is recognized around the world from November 7-13th and provides an opportunity to highlight all of the work entrepreneurs are doing.
Please read more about our Global Entrepreneurship Week Events, and sign up to join us!
Networking Savvy & Lender Matchmaking (click to register)
November 9th from 9am-12pm | @ Greenville Tech (specific location TBD)
Join us for this two-part event, featuring training on how to network as entrepreneurs led by Bold Moves. Bold Moves is a local coaching and consulting business focusing on strengthening individuals and companies. After the training, CommunityWorks lenders and partner lenders will be available for 1×1 discussions. Entrepreneurs can find which loan/lender might be the right match for their business.
Entrepreneurship and Motherhood Panel (click to register)
November 12th from 2-3pm | Virtual
Hosted by the CommunityWorks Women's Business Center, this virtual panel will feature local leaders who have expertise in balancing motherhood and entrepreneurship. This interactive panel will focus on the triumphs and challenges working women, especially mothers, face in regards to caregiving, wages, time, etc.