CommunityWorks is a proud partner of affordable housing developments across South Carolina. We provide affordable housing and community loans to support development, community facilities, and commercial revitalization. In recent news, two new affordable housing projects have made noteworthy progress in bringing necessary accessible housing to the Upstate of South Carolina.
The Renaissance Place Senior Apartments in Greenville are now available for leasing. The apartment units at Renaissance Place are available to prospective seniors ages 55 and up who earn 50% and 60% of the area median income. Located on Pleasantburg Drive, they feature one and two bedroom units with high quality finishes and appliances.
Managed by NHE and developed in partnership with Creative Builders and SCG Development Partners LLC, Renaissance place is a joint effort made possible with funding and support from CommunityWorks, the Greenville Housing Fund, and IBERIABANK.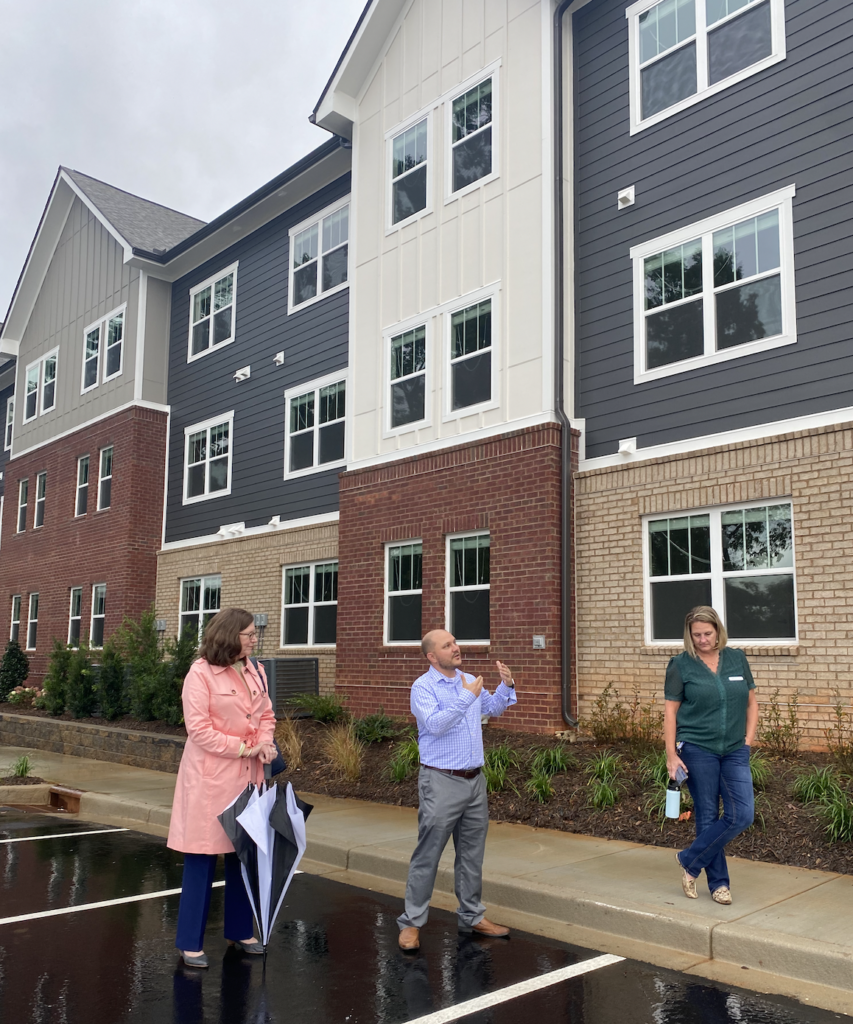 In another corner of the Upstate in Spartanburg, Robert Smalls at Midtowne Heights held a ribbon cutting recently to celebrate the end of construction on 40 townhomes. The townhomes are a part of Spartanburg's plan to relocate residents of Norris Ridge. Built in the 1950s, the Norris Ridge community has been plagued with crime and poor living conditions, particularly over the last few years.
CommunityWorks provided a loan for the developer, Equity Plus LLC, to acquire Norris Ridge, so that Robert Smalls could begin construction and provide safe and high quality living conditions for the residents.
The new development will eventually be a village of 190 units all of which will accept Section 8 and rental assistance. Each unit will have its own front porch, back patio, modern kitchens with appliances and a washer and dryer. There will also be a clubhouse, a playground, and a recreational trail.
Similarly, 500 Northside Station recently opened to the public. The urban-style building is a mixed-income community with nine market-rate units and 81 units for residents and with incomes ranging from 30% to 80% of area median income levels. The project was developed through public-private partnerships between the city of Spartanburg, Spartanburg Housing, NHE Inc. and SCG Development. 500 Northside Station was also supported by Community Works and the City of Spartanburg.
City leaders expect both of these developments to help fill the demand for more affordable housing in the city of Spartanburg.
CommunityWorks recognizes the need for flexible gap and bridge financing for community developers with the growing deficit of affordable housing throughout South Carolina. Our goal is to work with developers when applicable to fill financing gaps that increase the development and preservation of affordable housing. We brought over $10M in affordable housing to South Carolina since 2008. Contact us to learn how we can partner together to bring affordable housing to all. 
To learn more about CommunityWorks and our current lending products click here.