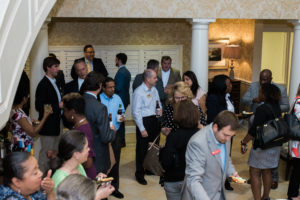 CommunityWorks and the Greenville Chamber of Commerce co-hosted the Excellence in Entrepreneurship Small Business Awards May 1 to celebrate local small businesses and honor National Small Business week. Over 200 entrepreneurs and community leaders gathered to see which Upstate business were recognized as outstanding this year. Toby Stansell, CEO of THInc, IT, gave an outstanding keynote address that left attendees inspired and energized.
Here are the 2018 Winners.
The Young Entrepreneur of the Year, sponsored by BB&T, honors young business owners who combine their sense of community, today's technology and innovative business models to create some of Greenville's most unique small businesses. The 2018 Young Entrepreneur of the Year award was presented to Gabriel Coggins, co-owner of The Kava Konnection, South Carolina's only kava bar.
The Minority Owned Business of the Year, sponsored by First Citizens Bank, honors those who have a commitment to building communities as well as their businesses and strive to serve as leaders and visionaries to create change. The Minority-Owned Small Business of the Year Award was awarded to James Jordon of JCC General Contractors.
The Eugenia Duke Woman Owned Business of the Year, sponsored by Duke Brands, was presented to Tammy Johnson, CEO of High Spirit's Hospitality. The award is named for Eugenia Duke, founder of Duke's Mayonnaise and Duke Foods, and is presented to small businesses owners who embody the legacy of female entrepreneurship that Eugenia exemplified.
The Entrepreneurial Success Award, sponsored by Greenville Technical College, recognizes the power of small business to use innovation to create jobs and expand their business model. This year's winner is US&S and was accepted by Euleta F.H. Alston, President of US&S and daughter of Rich Hagins, founder of US&S.
The Small Business Champion Award is given to a business that fulfills a commitment to serve small businesses and entrepreneurs through innovative services and support.  This year's winner was Chris Manley, CEO of Engenius.
<MORE>
The My Favorite Upstate Small Business is a people's choice award that gives neighbors a chance to vote for a business they think should be recognized as an outstanding in their community. This year's award was given to Grateful Brew and was accepted by co-owners and siblings Jessica Tooley and George Linn.